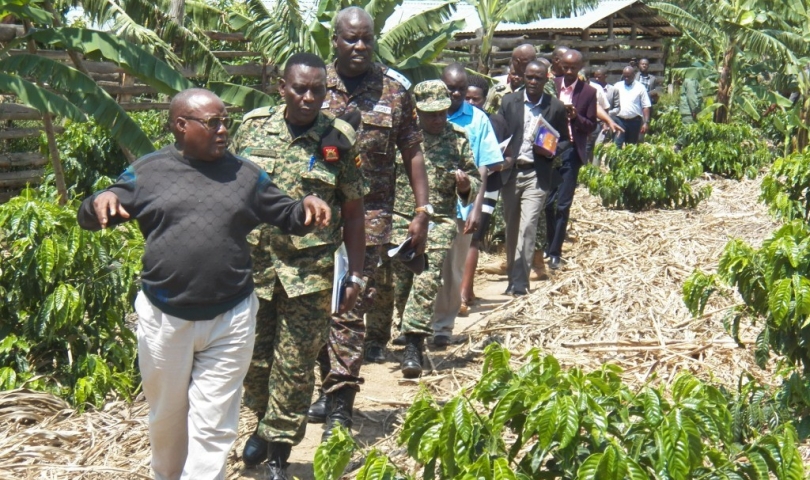 On 21st September 2018, Ibanda District Local Government hosted the Operation Wealth Creation coordinators from Ankole region. The visit was aimed at assessing and reviewing the impact of the programme in the district.
During the tour, the team visited many projects which include; coffee growing, fish farming, cassava production and maize processing firms.
Hon. Rwabulindore Tarsis asked the programme implementers to assist him in ensuring that cassava cuttings reach all the Farmers in the district since cassava was no longer a food only crop but also a cash crop.
Rwabulindole promised the team that he was going to ensure that cassava processing plant is established in his farm so that it becomes a collection center before it is exported which will cause an increase in its prices.
The team also visited a maize processing plant at Kakinga in Ishongororo town council to assess the impact of value addition at the facility. Mr. Lucky- one of the project proprietors requested the team to employ all the means possible to ensure that the price of maize increases to encourage farmers to grow more maize.
Kakinga millers processes over 10 tonnes of maize a day and according to Lucky, the facility employs over 100 youth who have  degrees, diploma and certificate.
The District Production and Marketing Officer, Mr. Zephrine called on farmers in the district to do their part as the Government also does its part of providing inputs to them.
(Below is the pictorial narrative)
Ankole Region OWC Coordinators inspecting fish farming in Bisheshe Division. Photo by Sylas  Byaruhanga.
Hon. Rwabulindole MP Ibanda Municipality with a team of regional OWC Coordinators inspecting a coffee plantation on 21st September 2018. Photo by Sylas Byaruhanga.
Maize processing plant at Kakinga- Ishongororo Town council. This plant processes over 100 tonnes of maize every day. Photo by Sylas Byaruhanga
Operation Wealth Creation Coordinators and Ibanda District Staff pose for a photo after the meeting. Photo by Sylas Byaruhanga